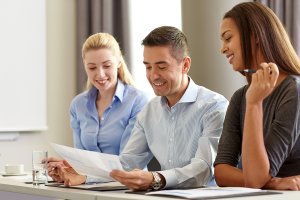 IT Sales Training
a 2-day in-company training course
This IT sales training has been designed specifically for people who are selling in this market. The programme considers the strategies and tactics required for success in high-value, complex IT selling situations. Delegates will examine the varying levels of business functions involved in the decision making process and the professional techniques required at each stage of the selling cycle. IT sales training is a highly cost effective investment that you can make in order to improve business performance. Your people will aquire a host of techniques and ideas to implement in order to maximise their effectiveness.
This course will enable delegates to:
- Improve their ability to sell IT solutions
- Increase understanding of the selling and buying process
- Manage the sales cycle effectively
- Analyse and identify factors which affect a customer's basis of decision and influence the decision favourably
- Communicate solutions effectively
Programme Content
The Challenges of Selling IT Solutions
The Psychology of Selling
Structure of the Sales Cycle
Analysing the Buying Process
Managing a Complex Sale
- Time Constraints
- Controlling the Cycle of Events
The Multi-Level Decision Process
- Description of Buying Teams
- Analysis of Buying Roles
- Who to Contact in the Buying Cycle
Situational Analysis
- Perception of Urgency of Purchase
- Recognising Positive & Negative Viewpoints
Establishing Requirements
- Tangible Business Needs
- Intangible Personal Desires
Identifying Contacts Current Attitude to You and Your Company
Understanding Behavioural Styles
- Dealing with Different Personality Types
- Their Expectations of You and Your Proposition
- Modifying Your Approach
Effective Communicating
- Product and Company Differentiation
- Presenting the Business Case
- Valuing Benefits
Gaining Commitment and Reaching Agreement
- Progressing the Sales Cycle
Negotiating Positive Outcomes
Delegates Action Plans
More Details:
During this IT sales training delegates will specifically seek to overcome the challenges to reach a positive conclusion. Delegates will explore each stage of the selling and buying cycle to develop a plan of action points to gain buyer commitment through to the close. This is a thought provoking and challenging training course aimed to develop highly effectively selling skills.
Delegates will also discover their natural selling style and increase their understanding of the requirements of different buyer personalities. In addition they will explore the various job roles that are involved in the decision making process and their associated buying needs and concerns.
Delegates will complete a series of exercises which includes tutor review in order to develop their understanding and skills as well as hone their individual approach.
The content of this training programme can be tailored to meet the specific needs of your team. Please call 01608 644144 for details or use the enquiry form.
"Tutor was very nice and very thorough"
NW
Stirling Lloyd
Enquire About This Course